Bayerischer Kammersänger Christopher Robson
Countertenor
CD RECORDINGS
RECENT RELEASES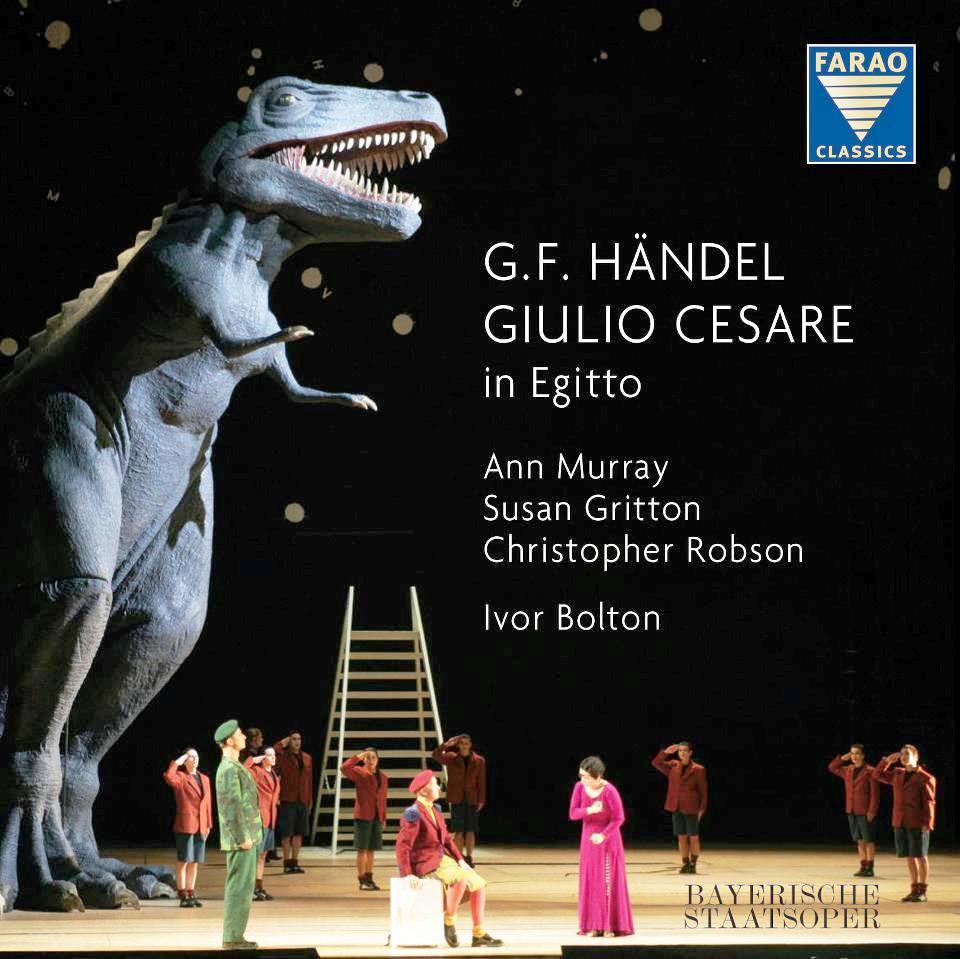 G.F. Handel
"
Giulio Cesare in Egitto"
Live recording, released on Farao Classics
2nd July, 2012


In 1994 the Bavarian State Opera in Munich mounted a production of Handel's most popular opera in a production by Richard Jones with designs by Nigel Lowery, and conducted by Ivor Bolton. The production quickly gathered cult status, helping to create a new enthusiastic mainstream audience as well as leading the way and setting new standards in the Handel Opera revival of the major German opera houses.

By 2006 the Bavarian State Opera had seven Handel operas in repertory, accompanied by a handful of operas by Monteverdi, Cavalli and Purcell, establishing it as a major force in Baroque Opera production. From 1996, out of an average of 39-40 opera productions performed each season at least two would be baroque operas.

Recorded live in the Nationaltheater in Munich in 2002, this Munich Opera Festival performance retains five members of the original 1994 cast, including Ann Murray as Cesare and Christopher Robson as Tolomeo. The issue on CD of this iconic production is a glowing testament to the artists involved, to the superb stylistic playing of the Bavarian State Orchestra, and to the visionary leadership of the then General Intendant Sir Peter Jonas.

For more details check out the Farao website
http://www.farao-classics.de/deutsch/katalog/cesare.html


Damon Albarn's

"DR DEE"
Album released on
Parlophone (EMI) Records
7th May, 2012
Christopher Robson sings the role of Dr John Dee's scryer and nemesis, Edward Kelley.

Damon Albarn
with Christopher Robson, Anna Dennis
Victoria Couper, Melanie Pappenheim, Stephen Page
Tony Allen, William Lyons, Mike Smith, Mamadou Diabate
BBC Philharmonic, conducted by Andre de Ridder

"Dr Dee", created by Damon Albarn and award winning theatre director Rufus Norris, was commissioned jointly by the Manchester International Festival, The English National Opera & the London Festival 2012. It was premiered at the Manchester International Festival on 1st July, 2011. The opera was scored for a band combining Elizabethan instruments (

viola da gamba

,

shawm

s,

dulcian

s

,

crumhorn

s

,

recorder

s,

lute

, etc

)

with the African K

ora

(Mamadou Diabate) and the distinctive drumming of Nigerian percussionist

Tony Allen

. Damon Albarn played acoustic guitar and

harmonium

and sang a number of the songs. A twenty-piece conventional orchestra was provided by the

BBC Philharmonic

and conducted by André de Ridder.

English National Opera will give eight performances of the spectacular production in June & July at the London Coliseum as part of the
Cultural Olympiad London Festival 2012. Check out the ENO website http://www.eno.org

"GIULIO CESARE" (Tolomeo)
Bavarian State Opera, dir: Ivor Bolton
Farao Classics
(Live recorded performance)
B108 090
"ARIODANTE" (Polinesso)
Bavarian State Opera, dir: Ivor Bolton
Farao Classics
(Live recorded performance)
B108 030
"XERXES" (Arsamenes)
Bavarian State Opera, dir: Ivor Bolton

Farao Classics


(Live recorded performance)
B108 010
"EZIO" (Ezio)
Berliner Kammeroper, dir: Brynmor Llewelyn Jones

Deutsche Schallplatten


(Live recorded performance)
DS 1051-2
"BELSHAZZAR" (Cyrus)
Koelner Kammerchor, dir: Peter Neumann

MDG Records


(Live recorded performance)
MDG332 1079-2
"SAUL" (David)
Bach Kantorei, dir: Wilfried Schnetzler

AVO Tonstudio


(Live recorded performance)
AVO 940 925
"MESSIAH" (Alto)
Collegium Musicum 90, dir: Richard Hickox




Chandos Records


(Studio recording)
CHAN 0522/3


Damon Albarn

"DR DEE"

(Kelley)


Damon Albarn, various artisits, BBC Philharmonic, dir; Andre de Ridder/Damon Albarn

Parlophone / EMI Records
(Studio recording)
50999 9538932 5



Thomas Arne
"ARTAXERXES"

(Artaxerxes)


The Parley of Instruments, dir: Roy Goodman

Hyperion Records
(Studio recording)
CDA67051/2


J.S. Bach
"JOHANNES PASSION" (Alto)


Bach Kantorei, dir: Wilfried Schnetzler

AVO Tonstudio
(Live recorded performance)
AVO 920 417
"MAGNIFICAT & Cantatas 35, 78 & 137" (Alto)
Bach Kantorei, dir: Wilfried Schnetzler

Aure Ridenti


(Live recorded performance)
AR 000924
"MAGNIFICAT in E flat" (Alto)
New London Consort, dir: Philip Pickett

Decca L'Oiseau Lyre


(Studio recording)
452 920-2


John Blow
"VENUS and ADONIS" (Shepherd/Huntsman)
New London Consort, dir: Philip Pickett

Decca L'Oiseau Lyre


(Studio recording)
440 220-2


H.I. Biber
"REQUIEM in F Minor" (Alto)
New London Consort, dir: Philip Pickett

Decca L'Oiseau Lyre


(Studio recording)
436 460-2
"MARIENVESPER 1693" (Alto)
Salzburg Bachchor, dir: Howard Arman




Ars Musici Essence


(Studio recording)
AME 3022-2


John Casken
"GOLEM" (Ometh)
Music Projects London, dir: Richard Bernas






Virgin Classics & NMC Ancora


(Studio recording)
VCD 7 91204-2 &
NMC D113



Rene Clemencic
"KABBALA" (Alto)
Clemencic Consort, dir: Rene Clemencic

Sony Col Legno


(Live recorded performance)
WW 1CD 31861


Jonathan Dove
"FLIGHT" (Refugee)
Glyndebourne Festival Opera, London Philharmonic Orchestra, dir: David Parry

Chandos Records


(Live recorded performance)
CHAN 10197(2)


Mateo Flecha
"LAS ENSALADAS" (Alto)
New London Consort, dir: Philip Pickett

Decca L'Oiseau Lyre


(Studio recording)
444 810-2
"ENSALADAS" (Alto)
Hesperion XX, dir: Jordi Savall

Astree Auvidis


(Studio recording)
E 7742


Matthew Locke
"PSYCHE" (Pyracmon/Apollo)
New London Consort, dir: Philip Pickett

Decca L'Oiseau Lyre


(Studio recording)
444 336-2


Peter Maxwell-Davies
"RESURRECTION" (Mam/Zues/Hera)
BBC Philharmonic Orchestra, dir: Sir Peter Maxwell-Davies

Collins Classics


(Live recorded performance)
70342


Claudio Monteverdi
"MARIENVESPERS 1610" (Alto)
New London Consort, dir: Philip Pickett

Decca L'Oiseau Lyre


(Studio recording)
425 823-2
"L'ORFEO" (Pastore/Speranza)
New London Consort, dir: Philip Pickett

Decca L'Oiseau Lyre


(Studio recording)
433 345-2


Henry Purcell
"ODES FOR QUEEN MARY" (Alto)
Orchestra & Choir of the Age of Enlightenment, dir: Gustav Leonhardt




Virgin Classics


(Studio recording)
VC 7 59253 2
"ODE FOR ST.CECILIA'S DAY" (Alto)
Orchestra & Choir of the Golden Age, dir: Robert Glenton

Naxos Records


(Studio recording)
8.553444
"MUSIC FOR QUEEN MARY'S FUNERAL" (Alto)
Winchester Cathedral Choir, Brandenburg Consort, dir: David Hill

Decca Argo


(Studio recording)
436 833-2
"PURCELL'S SHAKESPEARE" (Alto)
Musicians of the Globe, dir: Philip Pickett

Philips Classics


(Studio recording)
446 218-2
"MUSIC FOR THE CHAPELS ROYAL" (Alto)
Monteverdi Choir & English Baroque Soloists, dir: John Eliot Gardiner

Erato Records


(Studio recording)
2292-45987-2


Heinrich Schütz

"HISTORIEN DER GEBURT UND AUFERSTEHUNG JESU CHRISTI"


(Jesus)
Musica Fiata Köln, Barockorchester Stuttgart, dir: Frieder Bernius

Sony Classical "Vivarte"
(Studio recording)
SK 45943


John Tavener
"TOTAL ECLIPSE" (St. Paul)
Academy of Ancient Music, dir: Paul Goodwin

Harmonia Mundi


(Studio recording)
HMU 907271


Michael Tippett
"THE ICE BREAK" (Astron)
London Sinfonietta, dir: David Atherton




Virgin Classics

& EMI Classics
(Studio recording)
VC 7 91448-2 &
7243 5 86585 2 1


Francisco Valls
"MISSA SCALA ARETINA" (Alto)
London Oratory Choir & The Thames Chamber Orchestra, dir: John Hoban

CRD Records


(Studio recording)
CRD 3371


Antonio Vivaldi
"NISI DOMINUS" (Alto)
The Kings Consort, dir: Robert King




Meridian Records


(Studio recording)
CDE 84497 & CDE 84129
"GLORIA & DIXIT DOMINUS" (Alto)
New London Consort, dir: Philip Pickett

Decca Records


(Studio recording)
458 837-2


Various composers
"Trionfi ! A Florentine Festival"


New London Consort, dir: Philip Pickett

Decca L'Oiseau Lyre


(Studio recording)
436 718-2
"The Sylvan and Oceanic Delights of Posilipo (1620)"


New London Consort, dir: Philip Pickett

Decca L'Oiseau Lyre


(Studio recording)
425 610-2


Miscellaneous Film/Tv Soundtrack Recordings
"The Nine Lives of Thomas Katz"
comp: Dominik Scherrer (www.dominikscherrer.com)
Crimson Noise
www.dominikscherrer.com
(Pointy Bird Music –

pointybird@compuserve.com

)

"Hell for Leather"


comp: Dominik Scherrer (www.dominikscherrer.com)

Crimson Noise
www.dominikscherrer.com
(Pointy Bird Music –

pointybird@compuserve.com

"Cadfael"


comp: Colin Towns

EMI Soundtrack Music Records/Central TV
7243 8 37086 3 8
DVDs/VIDEO RECORDINGS
G.F. HANDEL
"A NIGHT WITH HANDEL"
Various Artists, Orchestra of the Age of Enlightenment, dir: Harry Bicket (Filmed on location)

Channel 4 TV/
Warner Music Vision
30-15900-2
"ARIODANTE" (Polinesso)
English National Opera, dir: Ivor Bolton (Live recorded performance)

BBC Television/RM Arts/
Arthaus Musik
100 064
(Stage dir: David Alden)
"XERXES" (Arsamenes)
English National Opera, dir: Sir Charles Mackerras (Live recorded performance)

Thames Television/RM Arts/ Arthaus Musik


100 076
(Stage dir: Nicholas Hytner)
"GIULIO CESARE" (Tolomeo)
Royal Opera Copenhagen, dir: Lars Ulrik Mortensen (Live recorded performance)
TV Danmark/
Harmonia Mundi
HMD 990 9908 09
(Stage dir: Francisco Negrin)

"RODELINDA" (Unulfo)
Bavarian State Opera, dir: Ivor Bolton (Live recorded performance)

Farao Classics/
Bayerische Rundfunk
D 108 060
(Stage dir: David Alden)




Henry Purcell

"Ode on St. Cecilia's Day 'Hail Bright Cecilia' 1692"
Schütz Choir of London/London Baroque Players, dir: Sir Roger Norrington (Filmed on location)

EMI Classics/PMI


(VHS) 7243 4 91031 3 9



Dominik Scherrer

"Hell for Leather"
Various Artists (Filmed on location)

Crimson Noise


www.dominikscherrer.com
(Pointy Bird Music -
pointybird@compuserve.com
SELECTED TV/FILM PERFORMANCES (not available commercially)
Antonio Cesti
"Orontea" (Corindo)
(Live recorded performance)
ORF TV/
Innsbruck Festival
dir: Rene Jacobs
(Stage dir: Philipo San Just)



Benjamin Britten

"In Life or Death"
(Canticles II & IV)
(Studio film)
IDTV/Netherlands Television
Julius Drake - Piano
(Dir: Pierre Audi)



Igor Stravinsky

"The Rake's Progress" (Baba the Turk)
(Live recorded performance)
Bayerische Rundfunk/
Bayerische Staatsoper
dir. Ivor Bolton
(Stage dir: Martin Duncan)



Jonathan Dove

"Flight" (Refugee)
(Live recorded performance)
Channel4TV/NVC/Glyndebourne Festival Opera
dir. David Parry
(Stage dir: Richard Jones)
Top